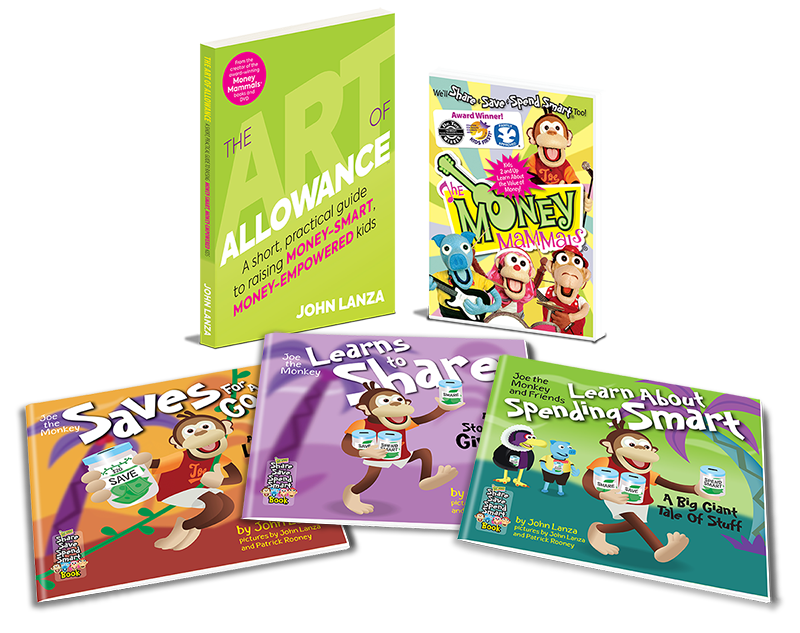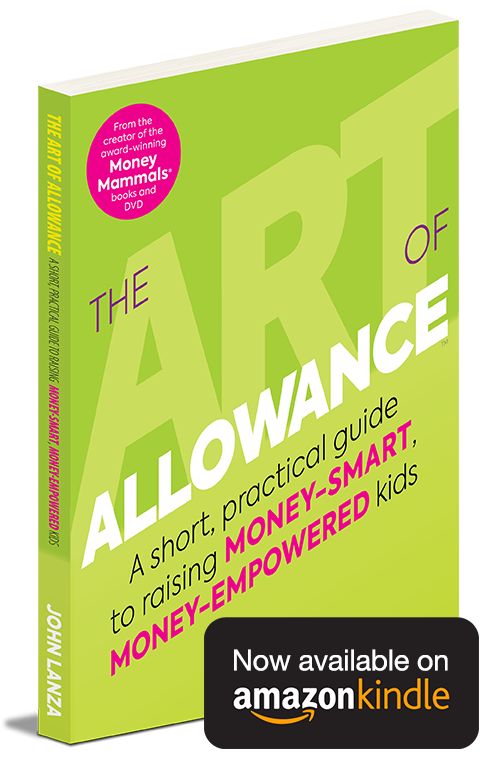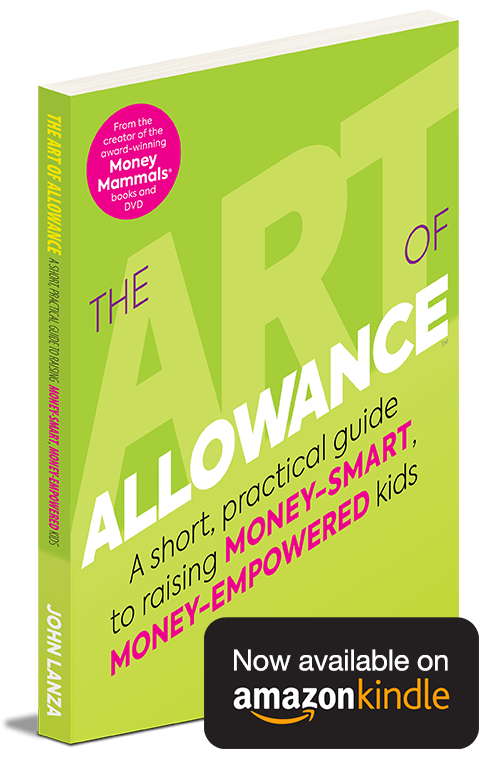 Are you worried that you're spoiling your child? Overwhelmed by how much stuff your child is accumulating? Wondering if and when an allowance might help? The Art of Allowance might be what you need. The Art of Allowance is a short, practical guide that will help you learn how to use an allowance to teach your kids to be money-smart and become money-empowered at any age. You can find out all about the book here.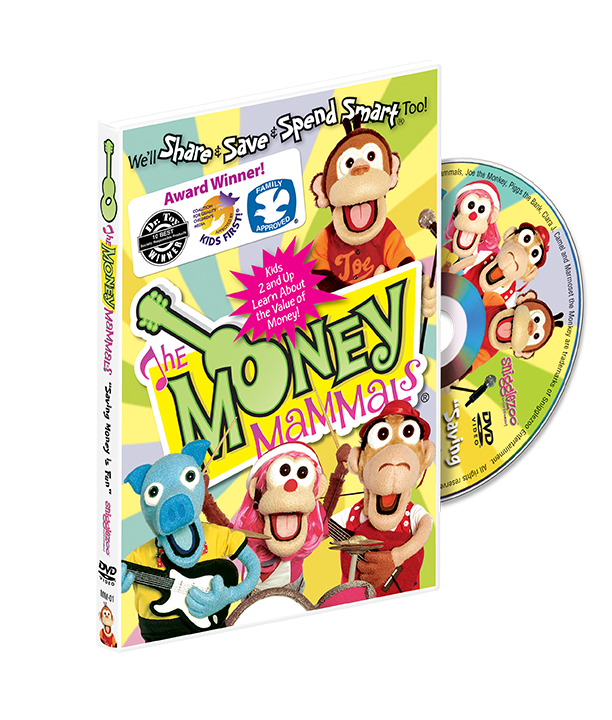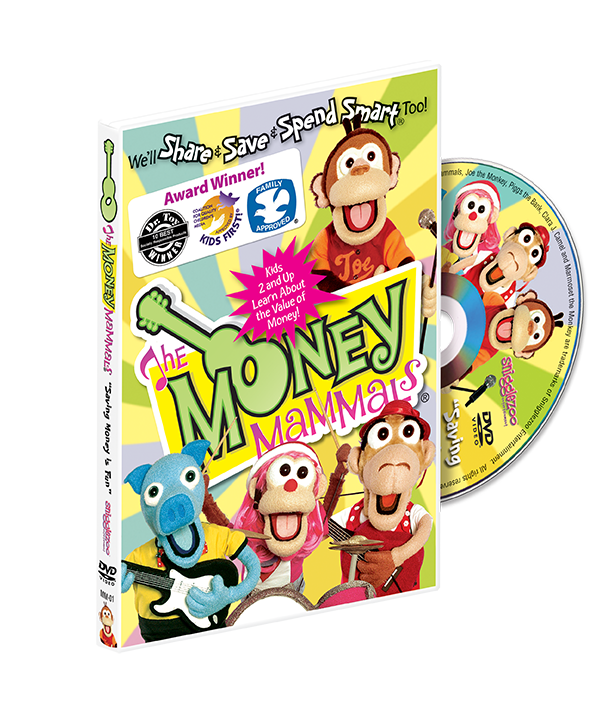 The Money Mammals: Saving Money Is Fun DVD is an award-winning 30 minute, full color DVD for all parents hoping to instill money smarts from a young age. It gets young children excited about money smarts and effectively introduces them to the core money-smart skills of distinguishing between needs and wants, making smart money choices and saving their money for goals. Using lively and colorful puppets, The Money Mammals informs while it entertains by including addictive songs like "One Coin" (for the Coconut Card), "Red Straw Hat" (for Clara's birthday), "Reasons to Save" and "Let's Make the Right Choice."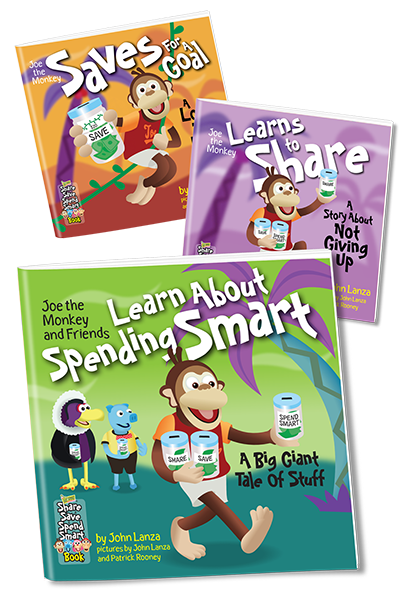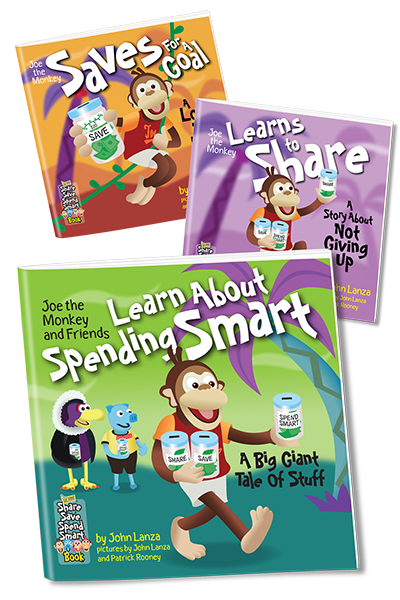 The award-winning Money Mammals "Share & Save & Spend Smart" picture book trilogy is a great way to get your kids excited about money smarts and the core concepts of saving for a goal, distinguishing between needs and wants and making smart money choices.
In Joe the Monkey Saves For A Goal, Joe wants to buy a new vine (He's a monkey…that's like an Xbox to him!), but it costs too much money. He doesn't have twenty dollars! His allowance is only four dollars! But he REALLY wants it, which means he'll have to save up for a few weeks and not spend his money on little items. Temptation awaits. Will Joe achieve his goal?
In Joe the Monkey Learns to Share, Joe doesn't know how to use his Share jar money. When he makes a big mistake and spends it, will his friends help him figure out what to do? Or will he follow his friend Vargas' advice? Find out if a special charity can find Joe in time for him to make the right choice.
In the third and final book of the trilogy, Joe the Monkey and Friends Learn About Spending Smart, Joe's friends are spending all their money on literal cans of Stuff. Meanwhile, Joe's vine swinging pals are choosing cheap vines that might cause his beloved Vine store to go out of business. Can Joe help them all learn a valuable lesson in Spending Smart before it's too late?