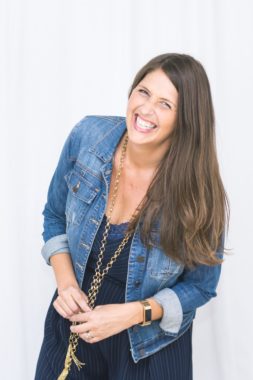 "It is so hard for parents to let their kids fail, to let their kids screw up. […] It really is one of the most important things that you can do, especially in regards to money."
-Ruth Soukup
Unsure of how to initiate and keep up the money conversation with your kids? My recent discussion with Ruth Soukup can shed some light on this crucial step in the financial literacy journey. A mother of two girls, Ruth runs an eponymous online media company with business, lifestyle, motivation and productivity divisions. As if that isn't enough of a full plate, she is also a New York Times bestselling author, host of the Do It Scared podcast as well as founder of the Elite Blog Academy course for online business owners and the Living Well Spending Less blog. In this episode, we address several of the fear archetypes from her most recent book, Do It Scared, and how they relate to allowance, the money conversation and its impact as well as how to establish and adjust money guidelines.
SHOW NOTES (Find what's most interesting to you!)
What Ruth is up to right now [2:00]
How fear prompted Ruth to write her most recent book, Do It Scared [3:34]
The procrastinator archetype in the context of The Art of Allowance [5:25]
How Ruth's early experiences (or lack thereof) with money led her to file for bankruptcy and fail, in her own words, "spectacularly" [6:52]
How Ruth breaks down money taboos with her kids [9:36]
The money conversation and establishing limitations [12:51]
Chores as familial expectations [15:31]
A lesson on costs from a manicure [18:29]
Adjusting money guidelines [19:39]
The impact of money conversations [21:44]
The self-doubter archetype and the money conversation [25:44]
"Above and beyond" chores [35:20]
Instructive failure for kids [37:34]
Money empowerment and confidence [41:05]
Separate vacations as investments of time [41:20]
Three pieces of advice about money for kids [42:38]
"Do it scared." [43:41]
Ruth's book recommendations: Dave Ramsey and Rachel Cruze's Smart Money Smart Kids, Patrick Lencioni's The Three Big Questions for a Frantic Family and her own Do It Scared [44:08]
Connecting with Ruth on the web (Be sure to check out the fear assessment, through which you can discover your own fear archetype.), Instagram and Twitter [46:39]
Still curious about how to adapt money guidelines as your allowance program evolves? My most recent blog post about guidelines versus rules can provide some insight.
If you like this podcast, then please give us a review and subscribe to the show. The Art of Allowance Podcast is available on iTunes, Spotify, Stitcher or Radio Public. Subscribing is free, and it will help me produce more enriching content for you to enjoy. Thanks!
You might also want to check out The Money Mammals, our program to get your children excited about money smarts when they're young. Until next time, I wish you and your family well as you journey forth. Thanks for listening.