"Working to help parents raise money-smart kids."
Welcome to 3 Ideas to Share and Save!
During our weekly production meeting, our team decided I should write at least one monthly email addressed primarily to our friends in the credit union world.
However, I'm so proud of the quarterly newsletters produced for our credit union partners this year that I want to share them with everyone. I think parents and credit union folks (and in some cases, both) will enjoy 2021's creative, colorful collection.
In a world obsessed with all things digital and frustrated by junk mail, we adults sometimes forget that physical mail is magic for younger kids. We may not look forward to the bills that fill up our mailboxes, but kids eagerly await any snail mail addressed to them.
So Blazin' Bananas … Let's all take a fun-tabulous trip through time with our Money Mammals pals! 🦕🪐🎨
— 1 —
Our first quarter newsletter is always special. It announces the year's theme and arrives just before April — Credit Union Youth Month. Every day matters when it comes to raising money-smart kids, but April matters A LOT in the credit union world. It's one full month dedicated to youth financial literacy.
That's our kind of month!
So The Money Mammals kicked off their time travels in a big way by embarking on a Jurassic journey thanks to an Imagination Portal created by Frugal McCougal, their rainbow-colored guide.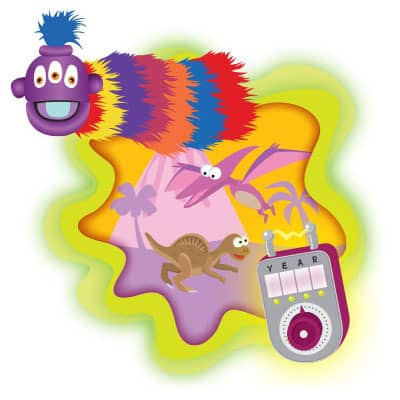 Take a look (and even download and print) the customized version we created for Black Hills Federal Credit Union, our wonderful, long-time partner.
— 2 —
Grab your DeLorean, because The Money Mammals decided to head "back to the future" for our summer edition.
This installment was full of out-of-this-world fun for our team because we could imagine what our intrepid Money Mammals might look like in the year 3016. (Move over, Buck Rogers!) And you know what? They discovered that money smarts still matter in the future!
If you take the time to download this edition from our friends at SECNY, then you'll notice a few things on the front page.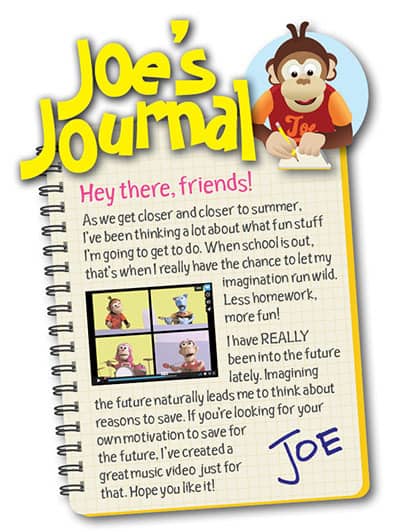 We always include a letter from Joe the Monkey to the kids. You won't be surprised to discover that thinking about the future also gets Joe thinking about saving. So he tells his readers to watch The Money Mammals' music video for the song "Reasons to Save."
We also include a coupon for children to double their savings power. For any deposit they bring in to SECNY, they receive two punches on their rewards card. Quite exciting with branches opening back up!
— 3 —
The Money Mammals then ventured to the Renaissance for our fall issue. Huzzah!
This might be my favorite newsletter we've ever done. (Yes, even better than our Beatles' tribute!) I mean, The Mona Clara 🤯 What's better than that? Yeah … This one's my favorite.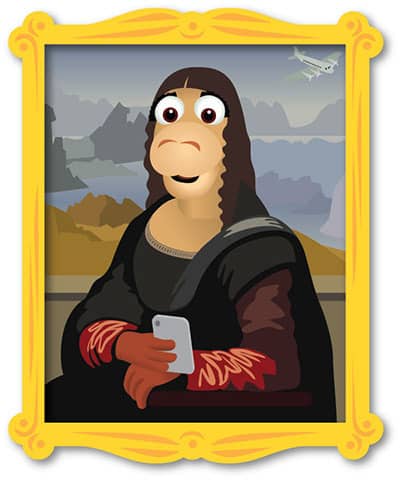 Take a look at this version that we customized for the friendly folks at Chiphone FCU, and flip (well, scroll) to the back.
This is where the magic happens for kids.
Each quarter we feature three puzzles of varying levels of difficulty so that there's something fun for all young members.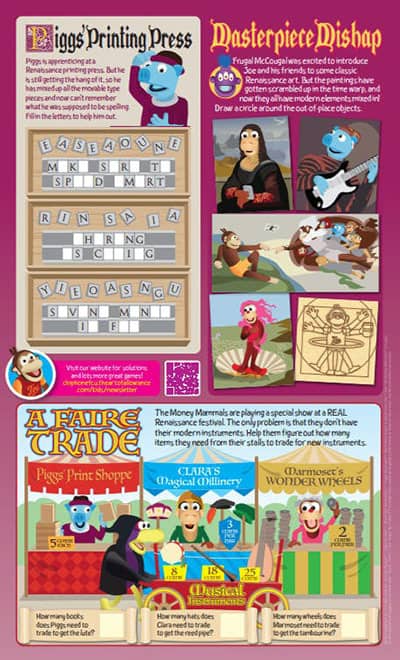 This issue included a "What's wrong with this picture?" game for the younger set as well as a word scramble and math puzzle for older kids. Of course, parents can help their children with these activities if their puzzlers are sore.
And now kids can "graduate" from our Money Mammals program to the new ADOLESCENT$ program we launched this year.
Speaking of ADOLESCENT$ (Drumroll, please! 🥁) … We're excited to announce that we'll be rolling out newsletters for tweens and teens in 2022!
None of this would happen without the wonderful team of writers and designers I work with, all of whom deserve credit for putting smiles on kids' (and parents' and credit union partners') faces. I want to extend my heartfelt thanks to Todd Slater, Erin Prim, Lauren Miller, Emily Smith and Pat Rooney.
I hope you enjoyed this newsletter about newsletters 📰
If you're with a credit union and want to find out what we have in store for our upcoming holiday newsletter and what our plans are for 2022, then please reach out.
And if you're a parent who wants The Money Mammals delivered to your door, then stop by your local credit union to ask them to give us a call.
Until next time (Pun very much intended 😉), enjoy the journey.
John, Chief Mammal
​​Like what you just read? You can sign up for the newsletter here.