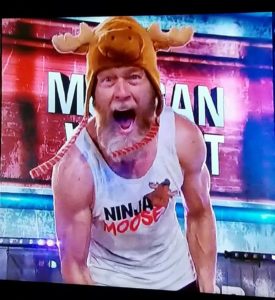 "Here I am, a grown man running around with a moose hat and living the dream."


Morgan ("Moose") Wright
Are you ready for "Moose"? In this episode of The Art of Allowance Podcast, I talk with Morgan ("Moose") Wright. Morgan's life enthusiasm is as infectious as his allowance program is novel. In fact, it was my previous guest, CNBC journalist Kelli Grant, who introduced me to Morgan because she had reported on his interesting approach to teaching his kids money smarts. Of course, if you're a fan of the TV show American Ninja Warrior, then you might know "Moose" as the uber-popular 43-year-old gym teacher who advanced to the 2017 Kansas City finals in his eponymous hat. I think the video of his run has received over a half-million hits. However, Morgan is more than just a fit guy in an antlered hat bouncing off logs on YouTube. He's a retired U.S. Army first lieutenant as well as a Golden Apple award-winning Physical Education teacher, and he's transferred his enthusiasm for exercise to an interesting allowance program for his kids. Enjoy this episode, and I promise that there will be plenty of food for thought — ideas you may want to consider with your own family. So hop on, and hang on tight for this ride with "Moose"!
Here is just a smattering of what we discuss:
How cleaning up backyard dog poop as a child informed Morgan's allowance style
Though he's ridiculously fit, Morgan actually allows junk food in the house. There are conditions, though.
Morgan thinks the hit game Fortnite — the bane of many a teen parent — has actually been a blessing.
Morgan explains why he's not concerned that paying his kids for fitness could backfire when they're not getting paid (and therefore might not be exercising).
Morgan thinks being "fiscally hungry" is a good emotion for children to experience at a young age.
Morgan's book recommendation: Motivation 2.0
Want to watch "Moose" at work in the American Ninja Warrior competitions? Try here.
We briefly discuss Students Run LA. (I called it Kids Run LA in the episode.)
Looking to get started setting up your allowance?
You can listen to our conversation on iTunes, Spotify, Stitcher or Radio Public.
Also, listen to my episode with CNBC money maven Kelli Grant, the journalist who introduced me to "Moose".
Want to hear another episode chock-full of lots of great ideas? Then take a listen to my conversation with FamZoo founder, Bill Dwight.
SHOW NOTES
What makes Moose a different type of dad [2:01]
How the nickname "Moose" came to be [3:53]
Playing hard, but being kind [5:45]
"Doggie donations," poop patrol and allowance lessons [7:09]
How Moose structures his kids' allowance program [8:40]
Savings and money management [10:36]
Thoughts on junk food [11:33]
How decoupling chores and allowance decreases negative money connotations [12:35]
Bonuses versus gifting [13:50]
Tweens and technology [15:09 and 20:01]
Why a $5.00 cup of coffee seems reasonable but a $0.99 phone app does not: a lesson on relative cost [15:45]
Fortnite and fitness: How can a video game encourage physical activity? [16:37]
Opinions on de-incentivizing grades and fitness [17:47 and 25:48]
Why Moose is okay with letting his kids not have money [22:35]
Thoughts on bears, including the Chicago variety [23:59]
Discussing family finances [24:23]
Volleyball matches, swim meets, and the "whole full circle of goodness" [26:25]
The mind / body connection [27:55]
"Money empowered" as money awareness [29:00]
The $20.00 Game: the value of day-to-day family activities versus one-time trips [30:26]
Running a half marathon at ages 8 and 11 [32:02]
Why Moose's biggest advice for his kids is not to open a credit card [33:35]
Why you should be a fast food cashier [35:47]
Moose's affinity for Motivation 2.0 [37:58]
The time warp that is Kindergarten Physical Education [39:12]
How to find Moose on social media [39:57]
Moose's plea to like his American Ninja Warrior runs on YouTube [40:32]
Please subscribe to our show to allow me to have additional conversations with parents and discover new ideas to help us all raise money-smart, money-empowered kids. You can find out more about our movement at themoneymammals.com/aoa as well as download a sample or get a copy of my new book, The Art of Allowance. You might also want to check out The Money Mammals, our program to get your children excited about money smarts when they're young. Until next time, I wish you and your family well as you journey forth. Thanks for listening.