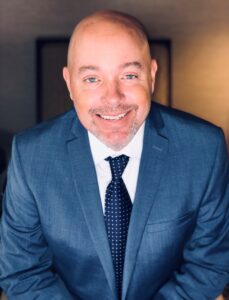 "Your kids are getting messages from you all the time around money."
– Brad Klontz
How are our financial behaviors influenced by past generations, and what can we do to acknowledge our own money issues to become better financial role models for our kids?
Enter Doctor Brad Klontz's concept of money scripts. Brad is an expert in financial psychology, financial planning and applied behavioral finance. He's also an Associate Professor of Practice at Creighton University Heider College of Business, Co-Founder of the Financial Psychology Institute and Managing Principal of Your Mental Wealth Advisors. A Fellow of the American Psychological Association, Brad was awarded this institution's Innovative Practice Presidential Citation for his application of psychological interventions to help people with money and wealth issues and his innovative practice in financial psychology for practitioners across the country.
In addition to the six books Brad has authored or edited, he has been a columnist for the Journal of Financial Planning, On Wall Street and Psychology Today. His work has been featured on many media outlets and in professional magazines and journals, including NPR, Money Magazine and The Wall Street Journal. In 2019 Brad was appointed to the CNBC Financial Wellness Council, and in 2018 he received the Montgomery-Warschauer Award from the Journal of Financial Planning, honoring the most outstanding contribution to the betterment of the financial planning profession. Brad has partnered with organizations including Capital One, JP Morgan Chase, Mutual of Omaha and H&R Block in efforts to help raise public awareness around issues related to financial health and financial psychology.
Links (From the Show)
Brad's work
Brad on the web
Show Notes (Find what's most interesting to you!)
How Brad's own psychology around money (and $100,000 of student loan debt) led to his career as a financial psychologist [4:12]
Why general advice should be taken with a grain of salt [7:04]
Allowance, when attached to chores, is problematic. Rather, it should be "untethered." [7:47]
Using an allowance to teach values, including how to spend, save, share and invest [8:39]
Getting started with investment early [10:05]
Should you get your kids picking stocks or mutual funds? The research suggests the latter. [10:44]
Helping your children respect the power of saving with enhanced interest [11:23]
Why it might be terrible for your kid to strike it big with his or her first investment [13:25]
Financial enmeshment: the conversations you should avoid having with your kids [14:40]
How The Game of Life can change your life path: the power of money scripts and how they might be acting on you without your knowing [16:45]
Too much financial enmeshment can lead to insecurity and anxiousness. [17:57]
How much should you reveal to your child about what you make? [20:54]
"The Sex Talk" versus "The Money Talk" and what is revealed about money anxiety and stress [21:49]
Money scripts affect your money behavior and can be passed through many generations. [23:24]
Looking at socioeconomic classes like different countries [28:54]
Raising charitable kids: modeling and the importance of the word "us" [32:00]
Overcoming the scarcity mindset [33:42]
Using a money mantra to overcome money scripts [35:00]
The psychological aspects of money empowerment [37:43]
Why Brad is confident he's not going to raise workaholic kids [38:19]
The importance of the internal locus of control [39:04]
How to become a millionaire by investing $5 a day [40:08]
George Clason's The Richest Man in Babylon and its influence on Brad's financial journey [41:00]
Brad's proliferation on social media [42:10]
How to discover your own money script [42:43]
If you liked this episode …
Curious as to how I discovered Brad? Fellow podcast guest and CNBC personality Kelli Grant introduced me to his work in financial psychology. She even discusses Brad's concept of money scripts during her episode, which you can listen to below.
Concerned about the impacts of financial enmeshment on your children? My conversation with child psychology researcher Chuck Kalish includes an introduction to the related concept of toxic stress and the dangers it poses to the young brain.
Please Subscribe
If you like this podcast, then please give us a review and subscribe to the show. The Art of Allowance Podcast is available on iTunes, Spotify, Stitcher or Radio Public. Subscribing is free, and it will help me produce more enriching content for you to enjoy. Thanks!
You might also want to check out The Money Mammals, our program to get your children excited about money smarts when they're young. Until next time, I wish you and your family well as you journey forth.
Thanks for listening.
John