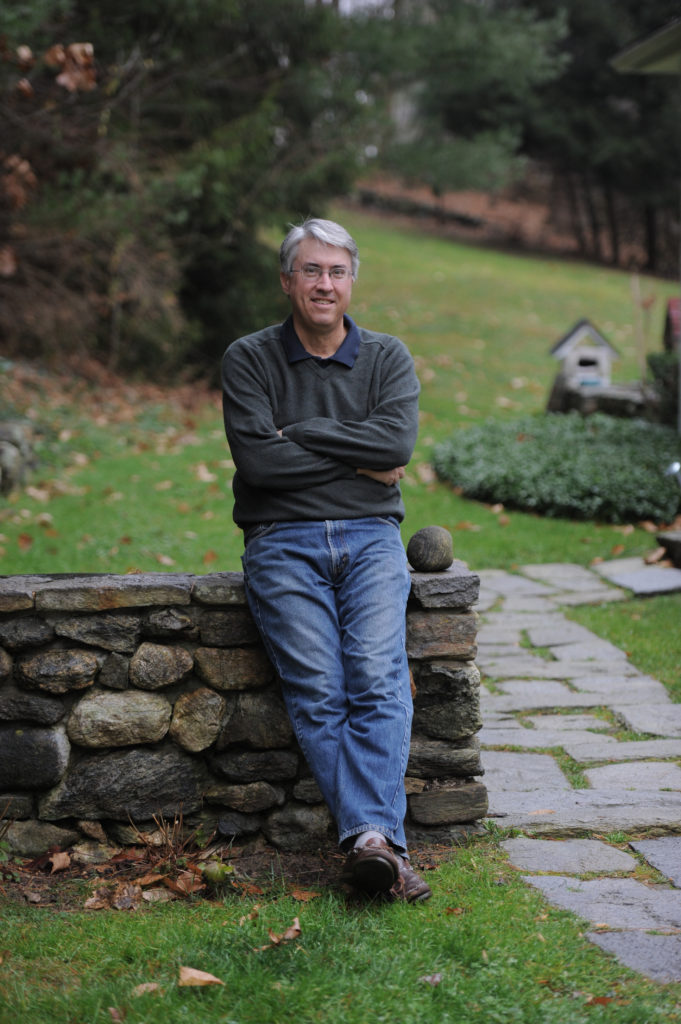 "Kids need control over their own money."
— David Owen
Do you fret about giving your kids too much autonomy when it comes to money and allowance? In this episode of The Art of Allowance Podcast, my guest David Owen offers a candid, funny and time-tested glimpse into the family financial system he wrote about in The First National Bank of Dad: The Best Way to Teach Kids About Money. This is a wonderfully written and hilarious book which heavily influenced my most recent work, The Art of Allowance. Using a method he developed to provide maximum age-appropriate control, David was able to raise two money-smart, money-empowered children.
David has been a staff writer for The New Yorker since 1991, and he is also a contributing editor at both Golf Digest and Popular Mechanics. Named one of The Fifty Funniest American Writers, he is the author of more than a dozen books, including the aforementioned First National Bank of Dad and the recent Volume Control: Hearing in a Deafening World. This episode is chock-full of enlightening information, from simple tactics like David's enhanced interest program to his broader philosophy that autonomy drives learning. I hope you enjoy this discussion as much as I did.
SHOW NOTES (Find what's most interesting to you!)
How David's daughter made him realize that his plan to teach her money smarts was no good [2:59]
How we unwittingly teach our children to spend the money that they receive as quickly as possible [5:24]
During our conversation, I mention the recent AICPA (The American Institute of CPAs) survey. Here's my blog post reaction that I reference. [6:21]
David describes his enhanced interest program — 5% per month — and how it helped adjust his kids' behaviors almost immediately. What's more, it actually allowed his 6-year-old son to basically understand compound interest! (If your child is in need of a visualization of this topic, then download this free graphic.) [8:09]
A simple plan to reduce vacation spending on tchotchkes [13:29]
How giving your child monetary control changes arguments to conversations [15:53]
David explains that his son began to consider his possessions assets because of the control he had been given. They became part of his "wealth," of which he was a steward. [17:54]
"The Beanie Babies experience" taught David's son about markets and how bubbles pop. [19:29]
David mentions the "Dutch tulip thing." He was referencing "Tulip Mania," often considered the first recorded example of a speculative bubble. [22:18]
David never worried about his kids' doing something foolish with money because the damage was limited by the relatively small funds they were given. In other words, they were learning financial lessons on their own in a low-stakes environment. [24:18]
David and I have an interesting exchange about whether or not a Share jar makes sense. You can decide what you think. [26:29]
Am I doing this because I'm worried that my child is going to do something stupid with it?: The quiet conversation you should have with yourself before making decisions about strategies and tactics you want to employ to teach your children money smarts. [31:19]
Being honest with your kids and with yourself [32:31]
Dollar matching as an incentive [33:36]
David explains his family's next financial step — The Dad Stock Exchange — and why it didn't work at the outset [34:53]
Another step forward: The Dad Money Market Fund [37:31]
Money as a driving force: "When you don't care about money, all you think about is money." [39:31]
Being open about limits [41:02]
To the extent that you can, you should provide an allowance that will grant your kids a "sort of flush." [42:04]
David doesn't believe that chores and allowance should be tied together. (I share my thoughts on the allowance / chore debate in a past blog post.) [43:54]
David's interesting take on working in high school and the "life lessons" that children might learn [47:09]
Musings on bed making [52:49]
"First National Bank of Dad, The Next Generation": David's daughter's article in The Boston Globe on implementing the family's financial system with her own kids [54:08]
Money empowerment as money control [56:50]
Reading to children as an investment [57:13]
I mention the term "emergent financial literacy." This paper by David Godsted and Martha McCormick introduces the concept. [58:56]
Money in The First National Bank of Dad era versus now: paying for Starbucks on a college campus [1:01:07]
The value of written recollections [1:02:06]
David's recommendations: pieces written by his daughter, Laura Hazard Owen, and Dr. Benjamin Spock's works [1:04:30]
Finding David on the web [01:09:23]
David's newest book, Volume Control: Hearing in a Deafening World [01:09:57]
Looking for more tips to introduce financial literacy to your kids? Bill Dwight, a fellow father and the founder of the "Virtual Family Bank" FamZoo, offers investing advice as well as allowance strategies with real-world implications.
Wanting to further develop your children's relationships with saving? Award-winning financial educator Sam Renick explains that saving is a leading behavior that encourages more complex monetary skills, including investing. His discussion of incentives and how they build money behaviors is also quite informative.
Curious about the "above and beyond chores" that David and I mention in this episode? Author and podcast host Ruth Soukup provides her interpretation of this concept during her appearance on The Art of Allowance Podcast. Be sure to listen in beginning at the 35:20 mark.
If you like this podcast, then please give us a review and subscribe to the show. The Art of Allowance Podcast is available on iTunes, Spotify, Stitcher or Radio Public. Subscribing is free, and it will help me produce more enriching content for you to enjoy. Thanks!
You might also want to check out The Money Mammals, our program to get your children excited about money smarts when they're young. Until next time, I wish you and your family well as you journey forth. Thanks for listening.